Who We Are?Structural Engineering Corpn.
is an engineering company that exercises innovative methods for the development of rubber based products. A management team runs a factory situated in a prime location of
Mumbai, Maharashtra (India)
, sharing close proximity to national highways and expressways, like NH3, NH4, NH8m NH222, NH17, Mumbai-Pune Expressway, The Eastern Freeway, The Mumbai Nashik Expressway and Mumbai-Vadodara Expressway, connecting us to other Indian states and cities.
What Do We Do?
We operate as manufacture and suppliers of various kinds of rubber products such as Metal Rubber Bush, Metal Clad Rubber Bush,
Rubber Grommets,Oil Seals
in various industries and also as per the require drawings n specification of the vendor we catter industries such as:
Submersible pump industries
Water sewage pumps
Automotive industries
Diary industries
Electrical appliances industries
Conveyor industries
We are on a mission to become the most trusted partner for manufacturing companies, OEMs, and contract manufacturers. We are open to all kinds of orders, from small to large. We are capable of increasing our capacity to execute large orders. We are even adept at executing multiple orders at a time.
Experience Matters
We are into the rubber products engineering business for 45 years, which is a significant time period dedicated to just a single segment. Our design engineers are expert at that production process and have the know-hows of rubber properties and methods to improve the characteristics of rubber and rubber products. Just like any other company, we do not satiate with what we have achieved till date. We are working towards the development of our company in all terms. Indian market is huge and we are concentrating on promoting our company and products in every region of India, whether small or big.
Management Team
Mr. Chirag Sharaff is the head of the team. He is responsible in the effective management and strong decision making. The management team works with design engineers during the design and development of different rubber products to assist them in selecting the appropriate standard material and the right production process. They make sure that every team in the company, from production to delivery, work in sync and promptly execute & deliver the orders.
Customers seeking rubber or rubber products can contact us today. Our representatives are available 24/7 to answer your questions or solving your problems.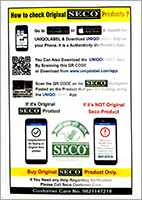 Read More